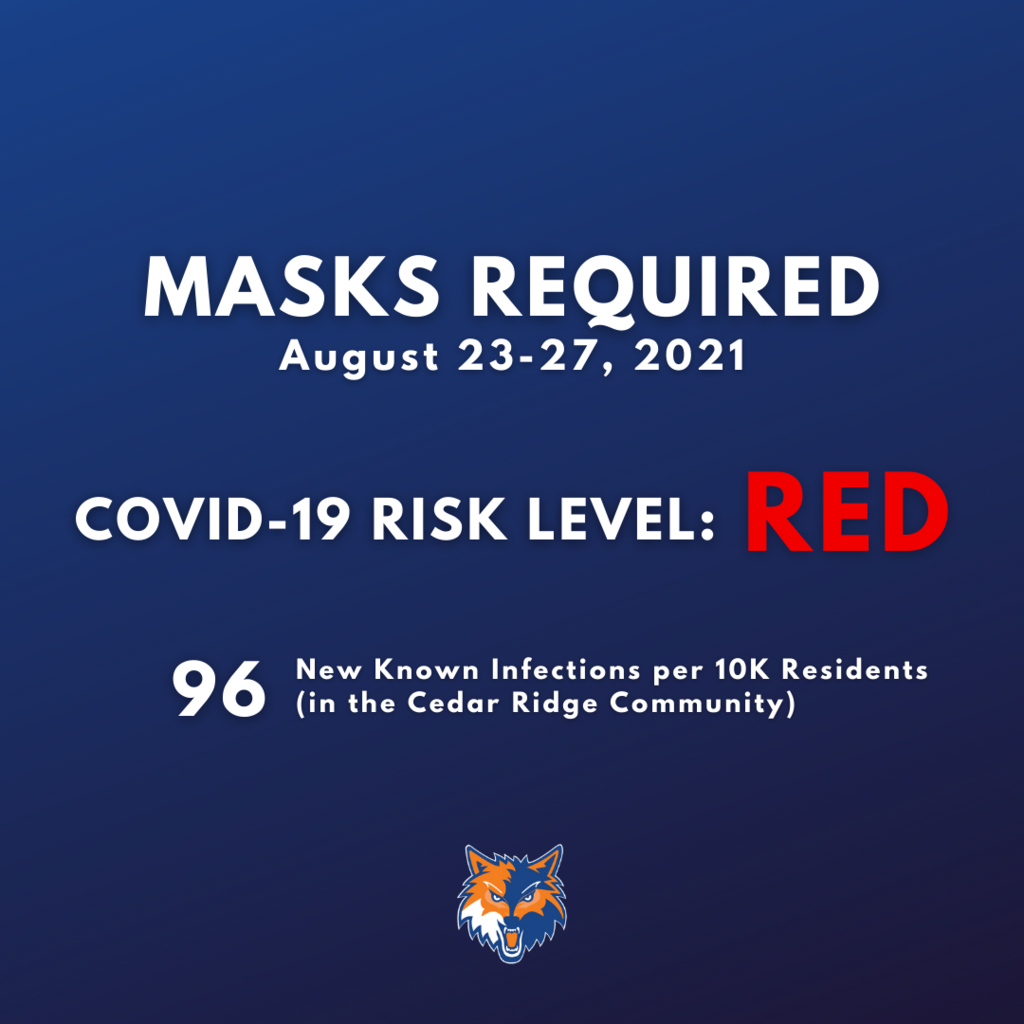 A letter from the Superintendent --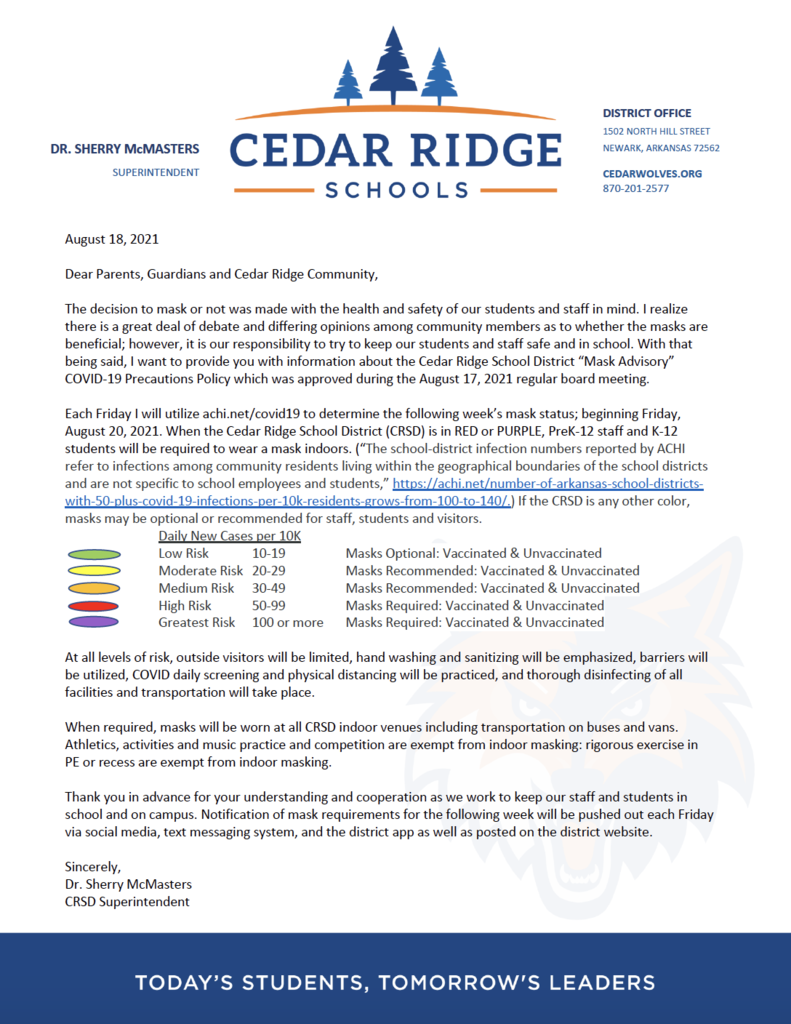 The football game scheduled for Friday, August 20th has been cancelled. The first football game will be on Friday, August 27th at Little Rock Hall.

Elementary: Parents who are picking up car-riders must stay in their vehicles and go through the car-rider line in order to avoid congestion. Thank you for your cooperation!

Elementary: Parents who are picking up car-riders must stay in their vehicles and go through the car-rider line in order to avoid congestion. Thank you for your cooperation!

White River Medical Center will send health care providers to Cedar Ridge Schools on Wednesday August 18, 2021 to provide free physicals for student athletes in grades 7-12. Student athletes will not be cleared to play any sport until a current physical is on file. Students must have a completed and signed physical form by a parent or guardian to receive a physical. Forms are available in the high school office or can be picked up from their coach. The Arkansas Activities Association requires student athletes to have a current physical in order to participate in any sport. This includes football, basketball, volleyball, cross-country, track, tennis, baseball, softball, wrestling, and bowling. Parents are welcome to make an appointment with a doctor of their choice and pay for the physical, however you will need to bring the school nurse and the coach of the sport your child plays a copy of the completed physical.

HIGH SCHOOL: 6-12th grade car-riders can not be picked up in the high school parking lot or behind the gym. In order to avoid congestion, car-riders must be picked up in front of the gym. Thank you for your cooperation!

HIGH SCHOOL CAR RIDERS — Car rider drop-off will be under the awning in front of the high school. Car rider pick-up will be in the gym parking lot. See you in the morning, students!

Attention Football Players: Due to the extreme heat, we will not have football practice today. We will still take pictures for Sr. High players at 8:30 tomorrow morning. Jr. High pictures will be scheduled at a later date. We will have football practice tomorrow after pictures. See you then.

Attention 9th-12th grade students enrolled in courses through UACCB for the upcoming school year: We will travel to the college campus on Monday, August 16th for student orientation. This also includes students that have previously taken courses through the University. If you ride the school provided transportation to UACCB, be at the high school ready to leave at 7:20. We will leave no later than 7:30 on Monday morning. If you plan to drive to the campus on your own, you will need to meet Mrs. Stelly at the UACCB Auditorium by 7:50. Attendance will be taken. You will be expected to return to the high school campus after the completion of orientation. If you have any questions, contact Mrs. Stelly at
simone.stelly@cedarwolves.org
.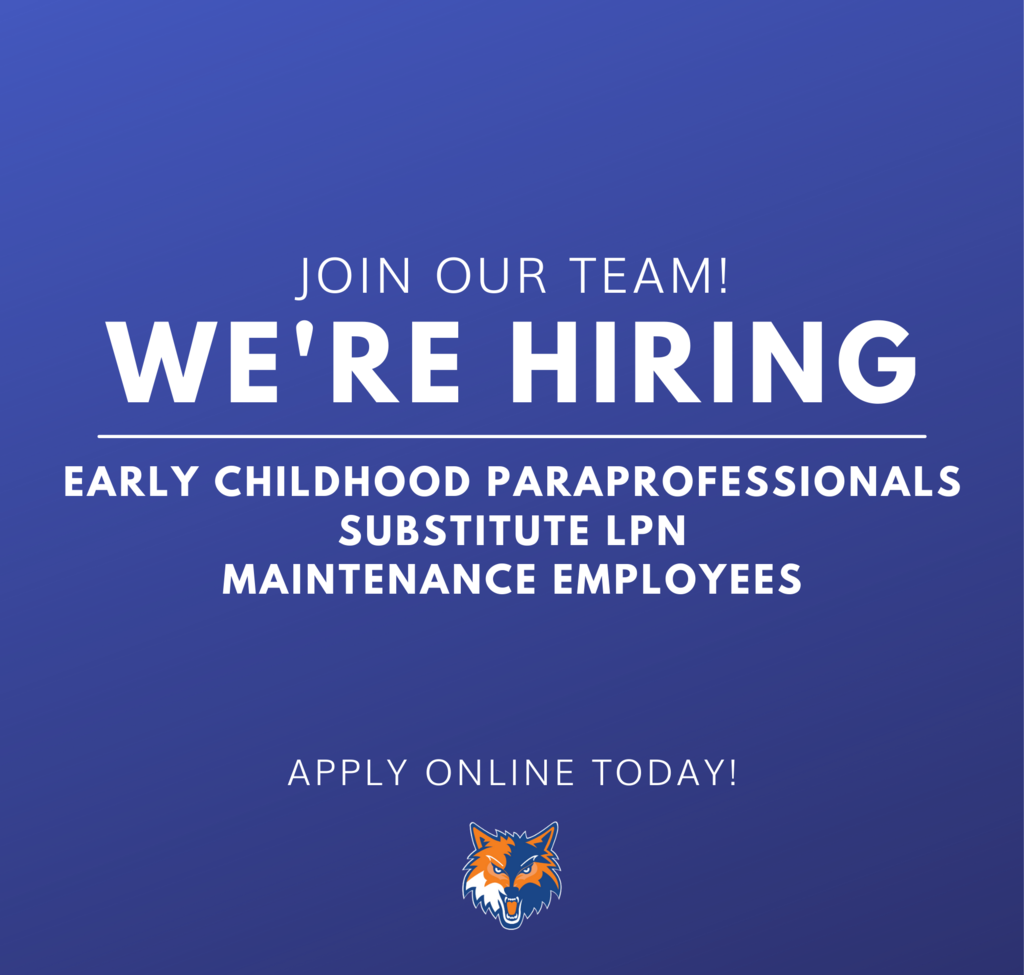 Timberwolf families - Please find updated Cedar Ridge Covid-19 Guidelines for the 2021-22 school year here:
https://www.cedarwolves.org/page/covid-guidelines
A feedback form is included on the Guidelines webpage so that our families can send questions and concerns.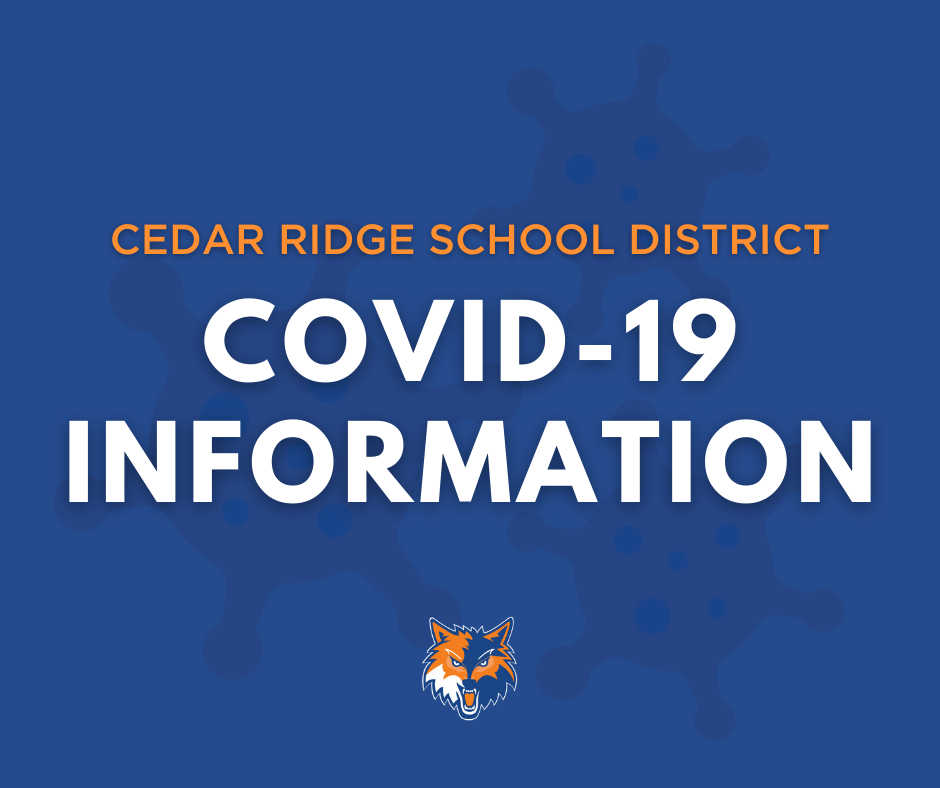 Thank you to First Community Bank for providing Cedar Ridge faculty and staff with Timberwolf tees and back-to-school goodie bags! 💙🧡 #6moredays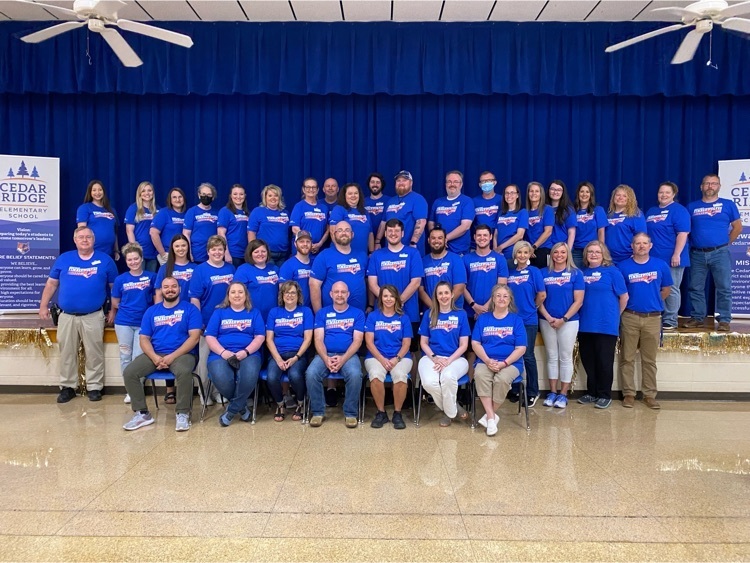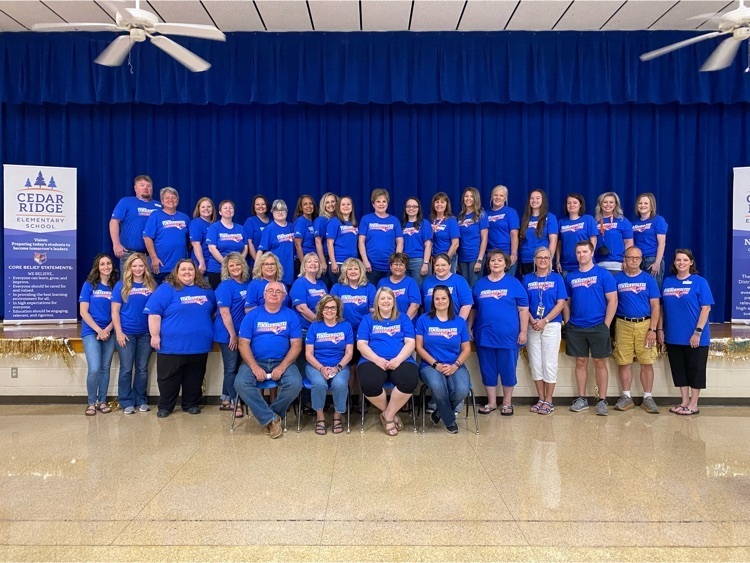 And we're back! Cedar Ridge teachers and staff kicked off back-to-school activities with our annual District Breakfast. Timberwolves, we are ready to see you in 1 week! 💙🧡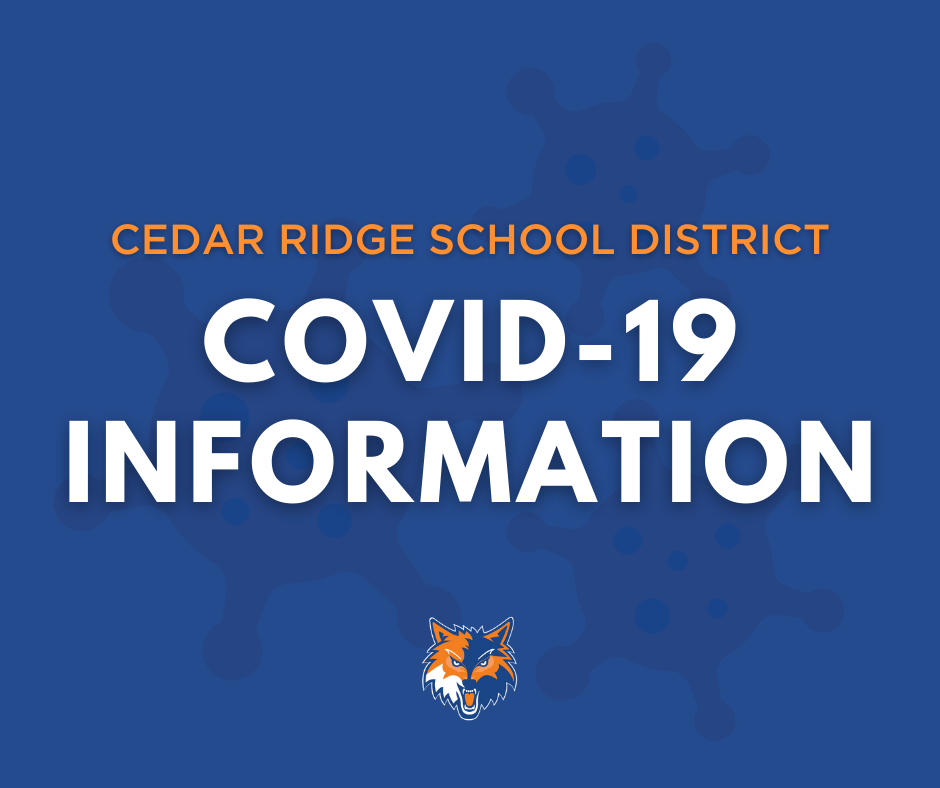 The deadline to register for the September 11th ACT is Friday, August 6th. If anyone needs assistance getting registered, contact High School Counselor Simone Stelly at 870-201-2577.

FREE COVID-19 Vaccination Clinic | When: During Open House on Thursday, August 12th from 4pm-7pm. The clinic is open to Cedar Ridge students 12 years of age or older, and will be held in the Professional Development Center (inside the Agriculture building).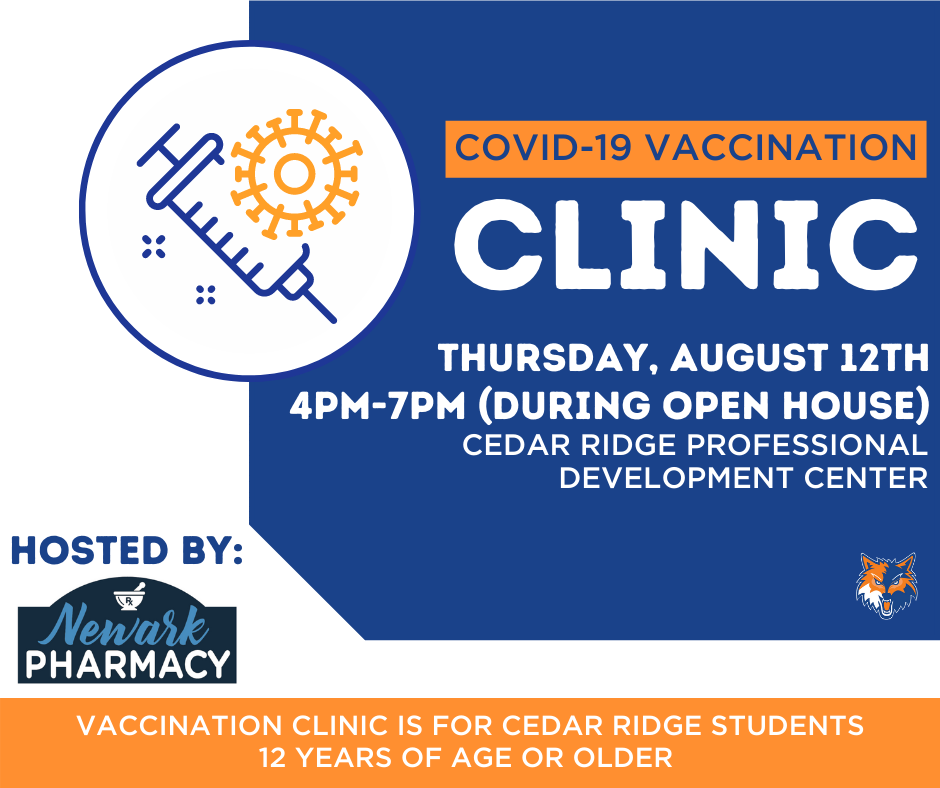 TIMBERWOLF COMMUNITY: Join us at the 1st Annual Kickoff Dinner & Auction on August 13th at 6pm! Tickets are $5, and all money earned will go directly back into the football program. See you there!

Apply today at ESS.com!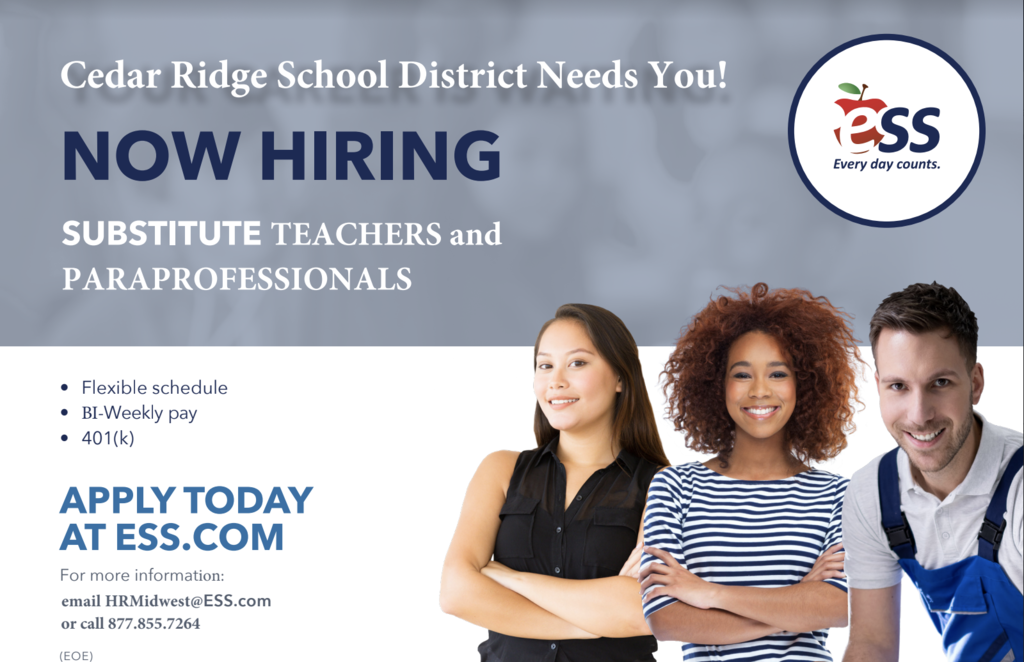 Here is the middle school supply list for the 2021-2022 school year!