Quick Reminder — Classes resume Tuesday, January 4th! Enjoy your last day of break tomorrow!

Merry Christmas, Timberwolves!



The schedule for tonight's basketball games at Calico Rock has changed. Ballgames will start at 5:00 and will be played in the following order: Jr. Girls, Jr. Boys, & Sr. Boys. The Sr. Girls game has been canceled.

BOOK CHARACTER PARADE | Tomorrow at 8:15am Students will be dressed up as their favorite book character! Parents are invited to come out and enjoy the Book Character Parade. We will be conducting the parade outside on the front sidewalk at 8:15am. Parents can stand in the front driveway or parking area while students will be assembled on the grass area in front of the building. To support all K-5 students' feelings of safety and security in our building, violent or frightening character costumes are not acceptable. No fake blood, weapons or dangerous-looking items will be permitted to accompany any character costume.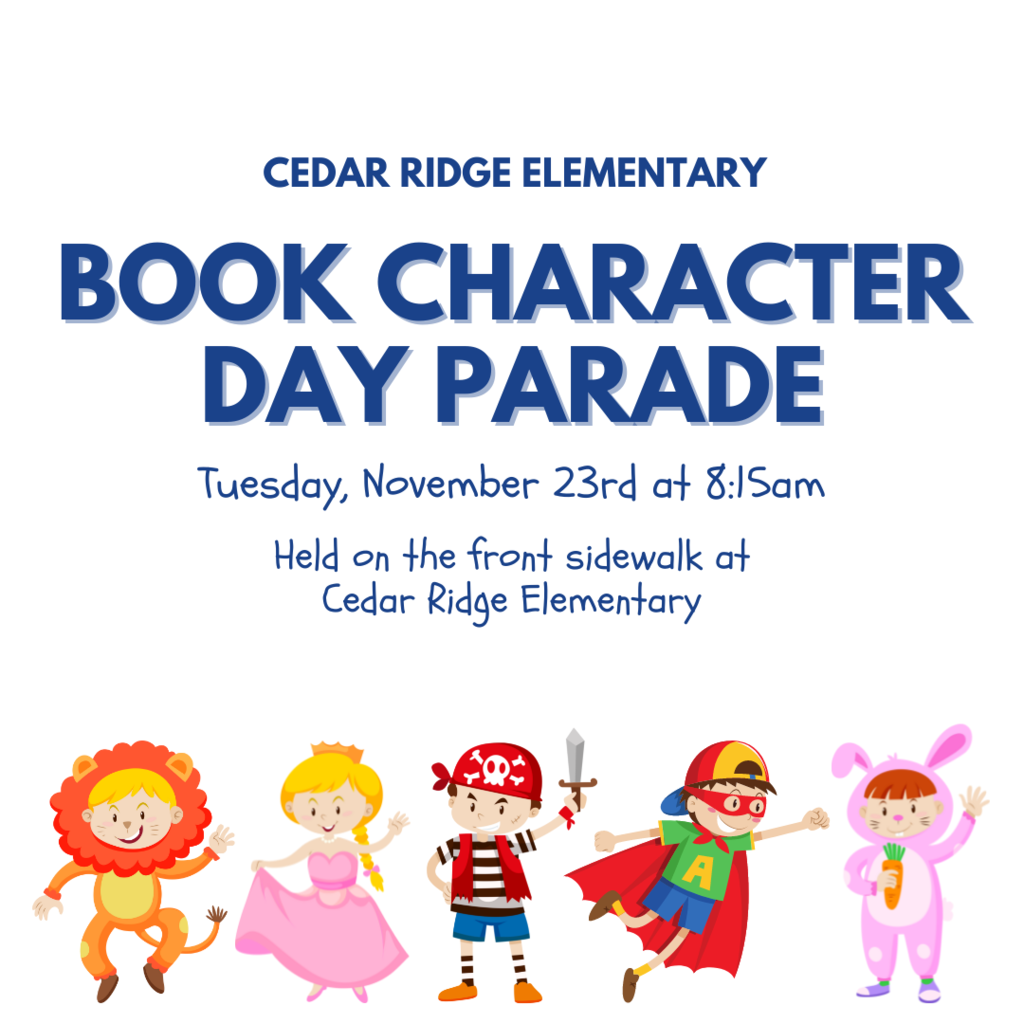 NEWARK CHRISTMAS PARADE | December 17th at 6:30pm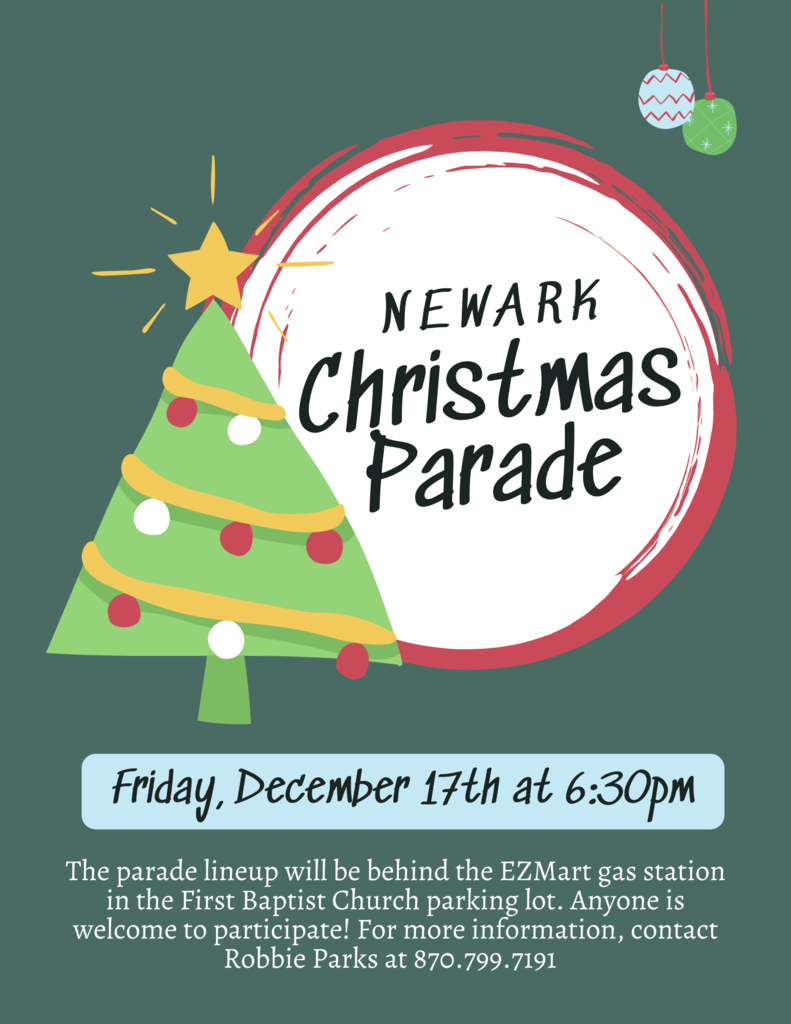 The Sr. Boys Football team will play Strong on Friday night at 7:00pm in the State Playoffs. The game will be live-streamed on the AAA Website, on the AAA app and on the NFHS Network. Click the links below to livestream the game. AAA Website:
www.AHSAA.org/broadcasts
NFHS Network:
www.nfhsnetwork.com/associations/aaa
AAA App: Search "Arkansas Activities Association" in Apple AppStore or GooglePlay to download the app.

Veteran's Day Assembly | Tomorrow at 9am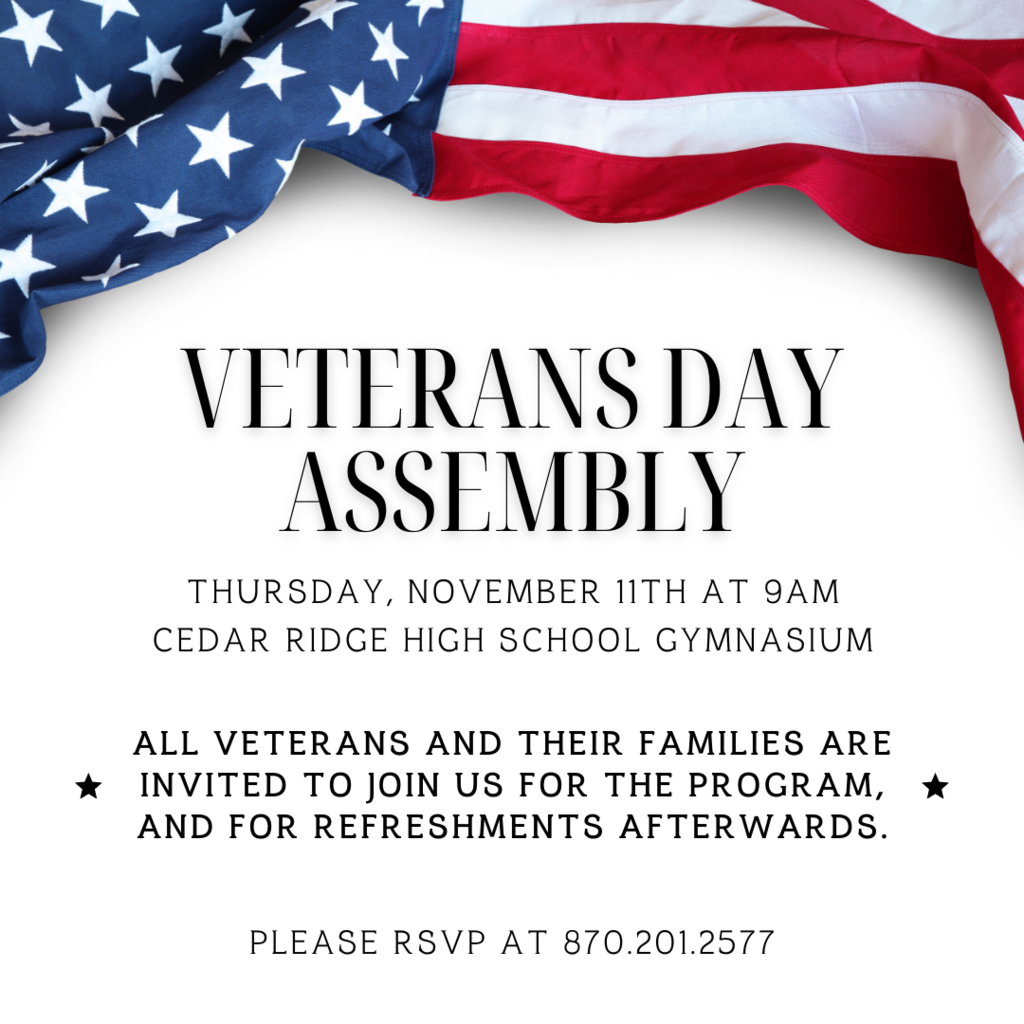 THANKSGIVING FOOD DRIVE | November 8 - 16 Contact Stacy Young at 870-201-2577 for more information!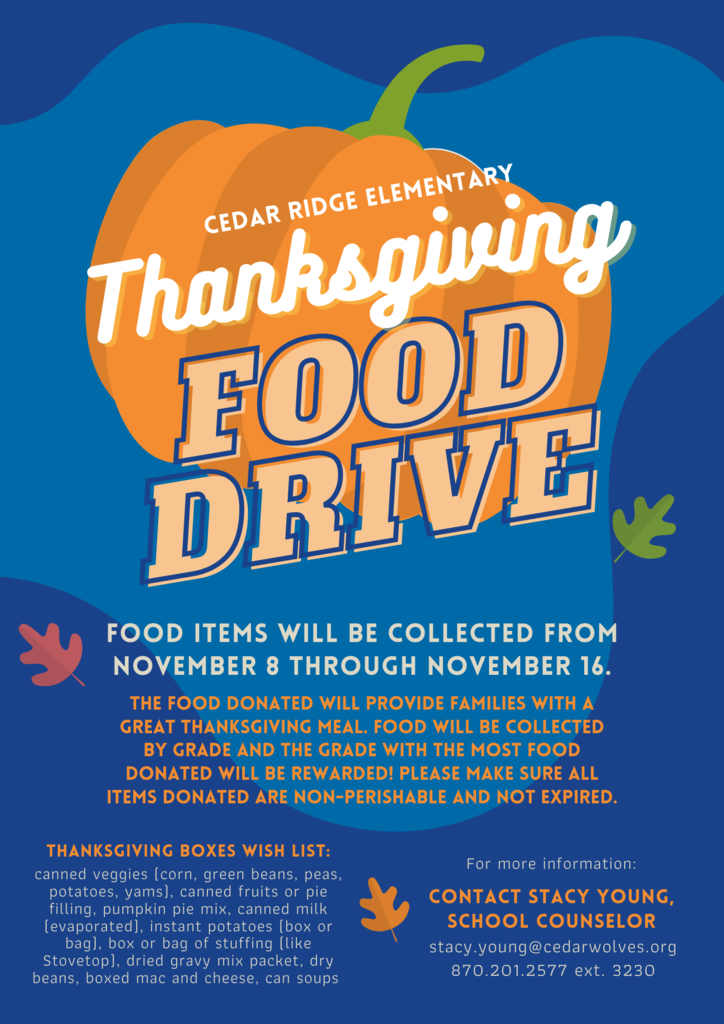 This Friday (11/5) is the deadline to register for the December ACT. Contact Mrs. Stelly at 870.201.2577 for more information!

VETERANS DAY ASSEMBLY | November 11th at 9am Please RSVP by calling the Cedar Ridge High School at 870.201.2577!

Join us for the 2021-22 Blue/Orange Basketball Games Fundraiser on Thursday, November 4th at 5:00pm in the High School Gym. Admission will be free. Donations are welcome and appreciated. There will be a silent auction, with lots of great items donated by the community and a pie/cake auction. Jr High Intrasquad games will start at 5:00 in the following order 6-7th grade boys, 6-7th grade girls, Jr Boys, Jr Girls. Sr High IntraSquad Basketball Games will follow starting with Sr. Boys then Sr. Girls. We hope you will come out and support our Timberwolves!!!!

Join us next Friday at Cedar Ridge Early Childhood for our annual Trunk-or-Treat! 🎃🍭

READING AT THE RIDGE | The Cedar Ridge School District is conducting a "child find" to locate children that have turned five, but are not yet in school. The CRSD would like to supplement FREE books for children in the district from their fifth birthday until the first day of kindergarten. Inspiring a love of reading at an early age is important. It is our hope that as we help build your at home library your child's love for books will grow. Fill out this form to see if you qualify --
https://forms.gle/ttmpiWQFvy1RFMPL9
If you are unable to fill out the form, please call the elementary school at 870-201-2577.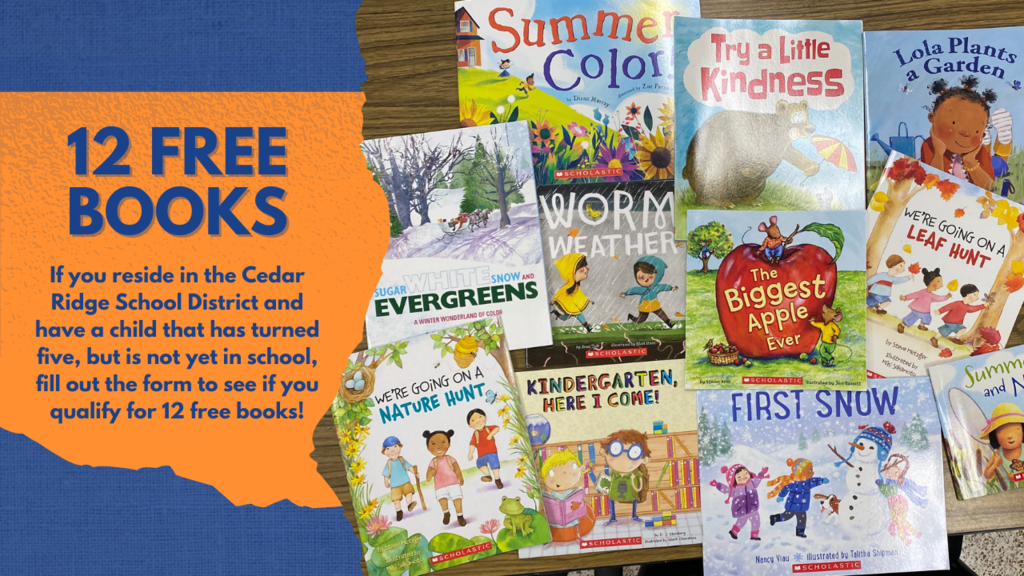 SCHOLARSHIP OPPORTUNITIES | Seniors, please meet with Mrs. Stelly to learn of the numerous scholarship opportunities waiting for you, such as the ATU Creative Writing scholarship, the NSPMA scholarship, the Thea Foundation scholarship, and more!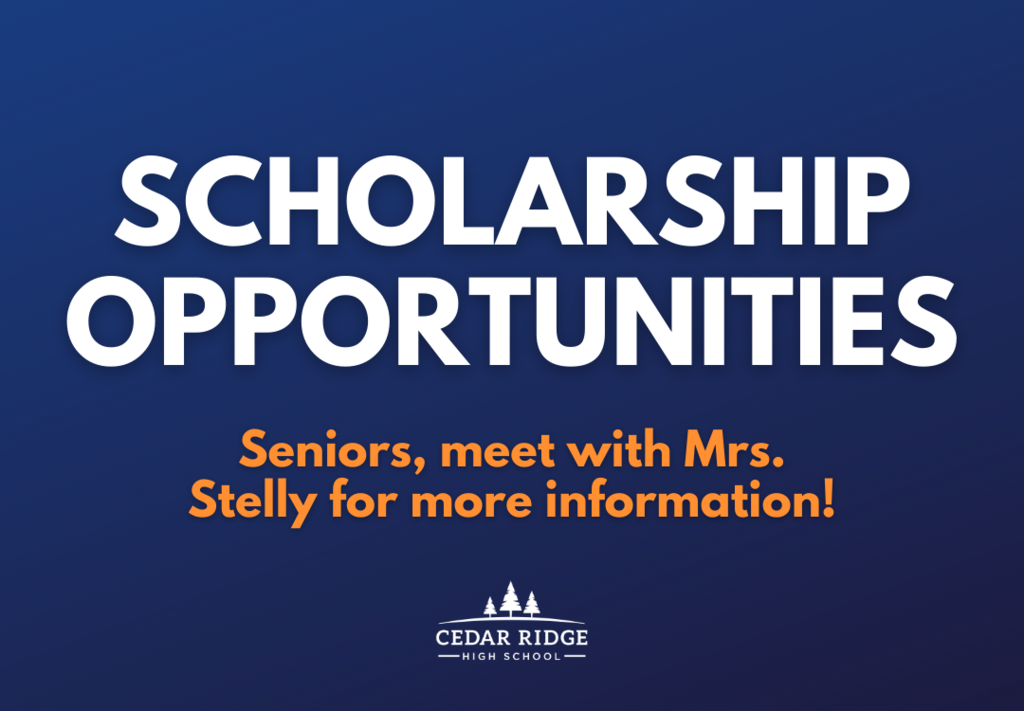 Any 9th-12th grade student that plans to take courses through UACCB for the spring semester needs to come by Mrs. Stelly's office to pick up the enrollment forms. Even students currently enrolled in courses with UACCB this semester have to complete the enrollment form each semester. These forms must be returned to Mrs. Stelly complete with parent/guardian signature by 10/19. If you have any questions, please contact Mrs. Stelly.

MASK UPDATE | The Cedar Ridge School Board voted to lift the Cedar Ridge School district "Mask Advisory" COVID-19 Precautions policy during a Special Board Meeting. Beginning Tuesday, October 12, 2021, masks will be highly recommended, but optional. The board will reevaluate the mask policy as needed.


FBLA officers at the District Fall Conference today